It is fairly simple to refund a payment to your consumer. To refund a payment, you first look it up in the transactions overview in your account. Next, you click on the 'Refund' button.

In the next screen, you can fill out the amount you want to refund. This can be the total amount or just part of it. Here, you can also add a description. The consumer will see this description on their bank statement or in their online banking environment.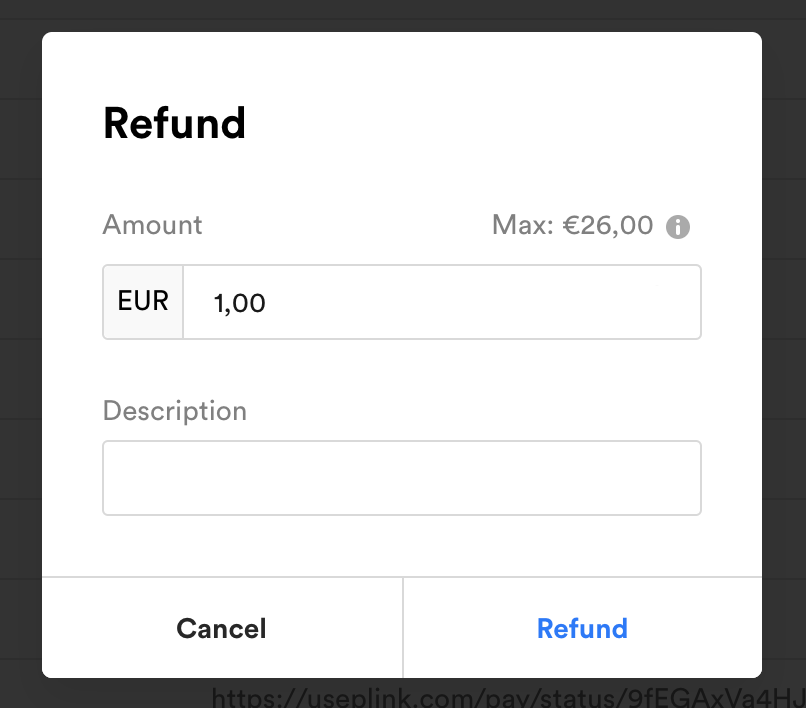 We always process refunds on the next working day. For most payment methods, the consumer's account will be credited that same day. However, there is a dependency on the country of your consumer's account is located in.
Refunding a credit-card transaction does take longer. Because the transaction needs to be processed via all related credit-card systems. The refund will be credited to your consumer's credit card within 14 calendar days.
Be aware, the refund won't be credited to your consumer's bank account, their credit card will be credited. The refund is visible in the consumer's credit-card transaction statement.
Which payment methods?
Refunding is possible with nearly all of our payment methods. For an overview of the refund options per payment method, see the overview below:
| | | | | | | |
| --- | --- | --- | --- | --- | --- | --- |
| Payment method | Refunding | Partial refund | Reversing a refund | Additional refund (max. €25) | Add description | Time limit |
| iDEAL | ✓ | ✓ | ✓ | ✓ | ✓ | Unlimited |
| Credit card | ✓ | ✓ |   |   |   | 1 year |
| Bancontact | ✓ | ✓ | ✓ | ✓ | ✓ | 70 days |
| SOFORT Banking | ✓ | ✓ | ✓ | ✓ | ✓ | Unlimited |
| Bank transfer | ✓ | ✓ | ✓ | ✓ | ✓ | Unlimited |
| Belfius Direct Net | ✓ | ✓ | ✓ | ✓ | ✓ | Unlimited  |
| KBC/CBC payment button | ✓ | ✓ | ✓ | ✓ | ✓ | Unlimited |
| ING Home'Pay | ✓ | ✓ | ✓ | ✓ | ✓ | Unlimited |
| EPS | ✓ | ✓  | ✓  | ✓  | ✓  | Unlimited |
| Giropay | ✓ | ✓ | ✓  | ✓ | ✓  | Unlimited  |
| PayPal | ✓ | ✓ |   |   | ✓ | 180 days |
| SEPA Direct Debit | ✓ | ✓ | ✓ | ✓ | ✓ | Unlimited |
| Gift cards |   |   |   |   |   |   |
| paysafecard |   |   |   |   |   |   |